Animal Abuse Crime Stoppers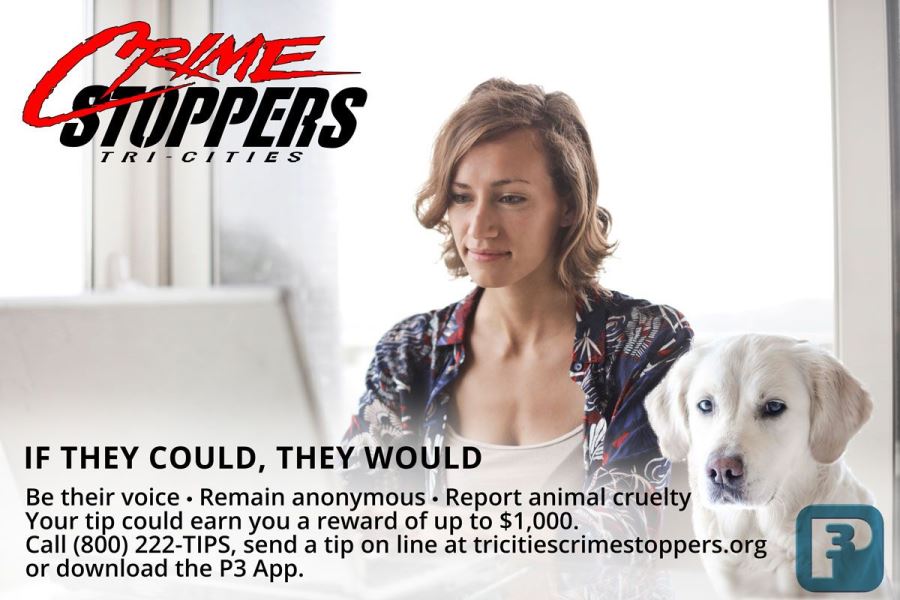 Committed to Animal Safety
Crime Stoppers accepts tips and information about crimes in order to solve or prevent such crimes. That includes our four legged community members as well. Study after study has shown the direct connection between abuse of animals and criminal activity by humans. Please remember when you make a report to Tri Cities Crime Stoppers, all tips are anonymous. Help prevent animal abuse and neglect.
Say It Here. Keep your eyes and ears open. Report animal abuse and neglect at (509) 586-8477, (800) 222-8477, submit a tip online or download our the P3 mobile app if you have information on any ongoing criminal activity.
Help Support Animal Abuse Crime Stoppers. You can designate your donation for Animal Abuse Crime Stoppers.
Crime Stoppers is funded through your Donations.
Did You Know-
There is supporting evidence that links childhood animal cruelty with aggression toward humans as adults,

71%-83% of women entering domestic violence shelters reported that their partners also abused or killed a family pet.

Pet abuse has been found concurrent with 88% of the families under supervision for the physical abuse of their children.

70% of animal abusers go on to commit other crimes.
Animal Cruelty Prevention
Signs of Abuse:
Pets with open sores, healed wounds or an injury or illness that is not being treated.

Pets that are extremely or emancipated. Are bones visible?

Pets that are covered in fleas, ticks or other parasites.

Pets with heavy discharge from eyes or nose.

Pets whose collars or chains so tight they have become embedded in their neck.

Pets kept outside in inclement weather without adequate shelter.

Pets left in unsanitary environments without food or water.

Pets kept in kennels or cages that are too small to stand, turn around or make normal movements. They are sometime crowded in with other animals
Washington State Law
A person is guilty of animal cruelty-
in the first degree (a class C felony) when he or she intentionally inflicts substantial pain on, cause's physical injury to, or kills an animal by a means causing undue suffering, or forces a minor to inflict unnecessary pain, injury, or death on an animal.

in the second degree (a misdemeanor) if, under circumstances not amounting to first degree animal cruelty, the person knowingly, recklessly, or with criminal negligence inflicts unnecessary suffering or pain upon an animal.

in the second degree the owner knowingly, recklessly, or with criminal negligence fails to provide the animal with necessary food, water, shelter, rest, sanitation, ventilation, space, or medical attention and the animal suffers unnecessary or unjustifiable physical pain as a result of the failure, or if he or she abandons the animal

.
Dog Fighting
Is a sadistic "contest" in which dogs- specifically bred, conditioned and trained to fight, are placed in a pit or arena of some type, to fight each other for the spectators' entertainment and gambling.
In Washington State animal fighting is a class C felony and includes a person who knowingly:
Breeds, buys, sells, advertises, or offers for sale any animal with the intent that the animal will be used for fighting;

Participates in, advertises, or performs any service in the furtherance of an animal fight;

Transports spectators to an animal fight or accepts payment for admission to an animal fight;

Keeps or uses a place for animal fighting or allows a place to be used for animal fighting;

Serves as a stakeholder for any money wagered on an animal fight; and

Takes or receives a stray or pet animal with the intent of using the stray animal or pet animal for animal fighting or for training or baiting for animal fighting.

Defines "animal" to mean dogs or male chickens
Animal Hoarding
Animal Hoarding is a human behavior that involves the keeping of an excessive number of pets without having the ability to properly house or care for them, while at the same time denying this inability. Along with other compulsive hoarding behaviors, it is linked in the American Psychiatric Association Diagnostic and Statistical Manual of Mental Disorders - Fourth Edition (DSM-IV) to obsessive-compulsive disorder and obsessive-compulsive personality disorder.
According to the Hoarding of Animals Research Consortium, the following criteria are used to define animal hoarding:
More than the typical number of companion animals.

Inability to provide even minimal standards of nutrition, sanitation, shelter, and veterinary care, with this neglect often resulting in starvation, illness, and death.

Denial of the inability to provide this minimum care and the impact of that failure on the animals, the household and human occupants of the dwelling.
Finding a stray or lost pet
Help keep animals and citizens safe when you come across a stray or lost pet.
Approach the animal safely. If it appears friendly, take it in and give it water and food. If the animal is unfriendly, it may be injured or sick. Contact your local Animal Control Authority;

Kennewick/Pasco/ Richland (509) 545-3740

West Richland (509) 967-3425

Benton County (unincorporated) (509) 460-4923

Prosser (509) 786-8211
Take the animal to a vet to check for a microchip and to be checked out.

If there is no microchip, post the animal as found online on various animal sites.

If no one claims the animal, use Facebook and other online outlets to promote it. Take pictures and include as much information about the pet that you have.

If no one claims the animal, and you cannot take it yourself, contact the appropriate animal shelter for assistance.
Our Partners
No one organization can do this alone. Want to join in this effort? Become a part of the Tri Cities Crime Stoppers Animal Abuse group. Contact us at our business line(509) 582-1351.